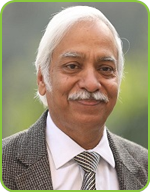 Rakesh Mohan Joshi
Director
Ph.D., (Management), Executive Masters in International Trade (Gold Medalist) IIFT, MBA First Division University of Rajasthan Jaipur, M.Tech (Dairy Technology), B.Tech (Dairy Technology). 
Uniqueness of IIPM The Reach-out Model
Indian Institute of Plantation Management (IIPM) is an exclusive sectoral institute with the capability and expertise to contribute to the Agri, Plantation, Horticulture, and Allied sectors from various dimensions- education, export facilitation, capacity building and training, policy research, research and development, and others to meet the demand of the sector.
IIPM aims to strengthen connections with associated stakeholders including the Agri-plantation Industry, Small, Medium, and Marginal Planters, Commodity Boards of India, other Agencies, and Academia.